Raíces began in 1991 as a coalition of Latin American folkloric dancers and musicians who found that by joining together, they had a stronger presence in the arts scene in Philadelphia. Headed by founder Michael Esposito and then executive director, Yolanda Alcorta, the organization took shape as they began giving cultural performances in Philadelphia and the tri-state area, and hosting festivals such as the Festival de Sevilla and co-hosting the annual Feria del Barrio. In 2006, Raíces headquarters at 2757 N. 5th Street was adorned with a two-story, wall-to-wall mural depicting Latin American culture.

Raíces Now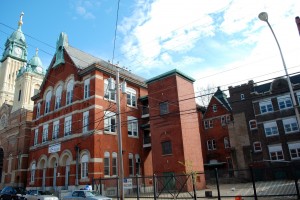 During the summer of 2011, Raíces relocated to 1417 N. 2nd Street, in what is known as the Crane Arts Old School building in a shared facility project with Casa de Venezuela, Inc. Built as a school in 1891 for St. Michael's parish, whose first church was the focal point of the Know-Nothing Riots, the building backs up to the church's cemetery with its beautiful sycamore trees creating an urban oasis.  In addition to our office space, we have a beautiful dance studio with wooden floors and full length mirrors. We're also located on the first floor annex for easy access for people with disabilities, something that was lacking at our old North 5th location.
Currently, Raíces showcases artists representing many regions of Latin America, along with Spanish and African regions that have been influential in Latin American cultures. In addition to music and dance performances, we also offer music and dance classes, weekly jam sessions, a monthly Tertulia and special workshops tailored to groups of young people and adults. Raíces continues to participate in the Feria del Barrio, the Puerto Rican Day Parade, and our annual Latin Roots & Rhythms Festival, a three-day music and dance celebration, that debuted in May 2010, and was produced again in June 2011!
Raices Culturales Latinoamericanas, Inc. is a nonprofit tax-exempt organization under Section 501(c)(3) of the Internal Revenue Service Code.