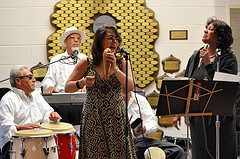 ◊ TERTULIAS ◊
On the last Friday of every other month, we convert the Crane Old School's White Space  into a Café de Encuentros to host our signature public program, the Tertulia.
This event is one of Raíces' most popular programs, which presents lectures and discussions on cultural topics.
At the end of each tertulia, we open the microphone to any individual or group who would like to share their talents in music, poetry, dance, etc. We call this a cultural encounter in the café atmosphere, a retreat for the soul.
Please be aware that most of the speaking is in Spanish, but we do have people available who can interpret in English.
Admission is a suggested $10.00 donation. Come share this experience!