◊ TERTULIA ARCHIVE ◊
Take a peak at some of Raices past Tertulia programs!
MARCH 2013 TERTULIA – Mothers and Daughters of the Spanish Transition
On Friday, March 29, we held our signature public program, the Tertulia. The night's theme was Mothers and Daughters of the Spanish Transition, which focused on an oral history research project that Dr. Aránzazu Borrachero from The City University of New York (CUNY) has been conducting for the last two years.The night started off with a brief welcoming statement made by author and Raíces' Board Chair, Concha Alborg, Ph.D. The microphone was then passed to Maritza Padua, Executive Assistant to Councilwoman Quiñones-Sánchez and Treasurer of Philadelphia NACOPRW, who was gracious enough to emcee the event.Dr. Borrachero was then introduced by her personal friend and a member of Raíces' Artistic & Community Relations Committee, Marisol Rampolla. Dr. Borrachero's presentation focused on the points-of-view of Spanish women who grew up and became mothers during the Franco dictatorship. She even brought along Pepa Antón, one of the participants in the project, to shed light on some of her own personal experiences.
The Tertulia was a great success and a very nice way to end International Women's History Month.
JANUARY 2013 TERTULIA – Brazil Tertulia: A Celebration of Brazilian Culture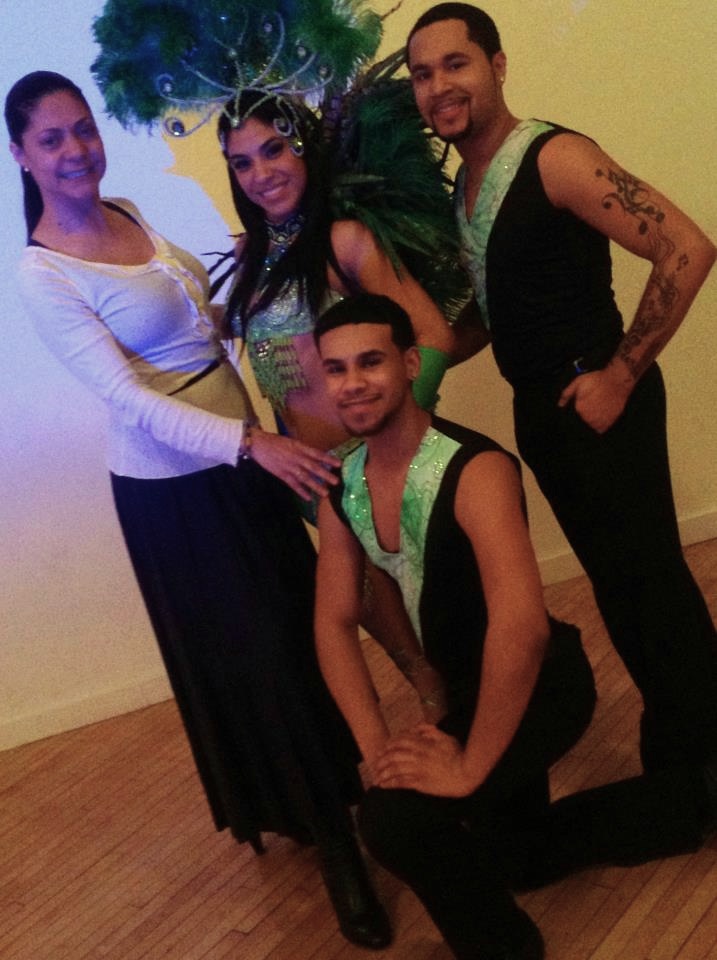 On Friday, January 25, we hosted our first Tertulia of 2013, celebrating Brazilian culture. Despite the cold snowfall outside, things quickly heated up inside with Brazilian music and dance.
Upon entering, guests had the opportunity to mingle and enjoy light refreshments of typical Brazilian food and drink by Picanha Grill and Brazil Productions and coffee by OrganoGold from Francisco Arzua Brazil Productions Founder and Owner, Fatima Peters began the evening, with a presentation all about her native country. She spoke about Brazilian customs, social life, economy, food, and the world-renowned Carnaval.
Following Fatima's presentation, the talented dancers of Fuego Dance Company performed samba for the very first time, and a samba inspired salsa routine. With just a week of training from Brazil Productions, the dancers wowed the audience with their samba moves!
Native Brazilian percussionist, singer, and songwriter, Xande Cruz, presented after Fuego Dance Company, sharing with the crowd the rhythms of several percussion instruments found in Brazilian music. Audience members joined in the fun, playing along with handcrafted instruments.
The evening concluded with everyone up on the dance floor, practicing the newly learned samba rhythms and steps.
SEPTEMBER 2012 TERTULIA- Blue Corn: Withstanding the impacts of the North American Free Trade Agreement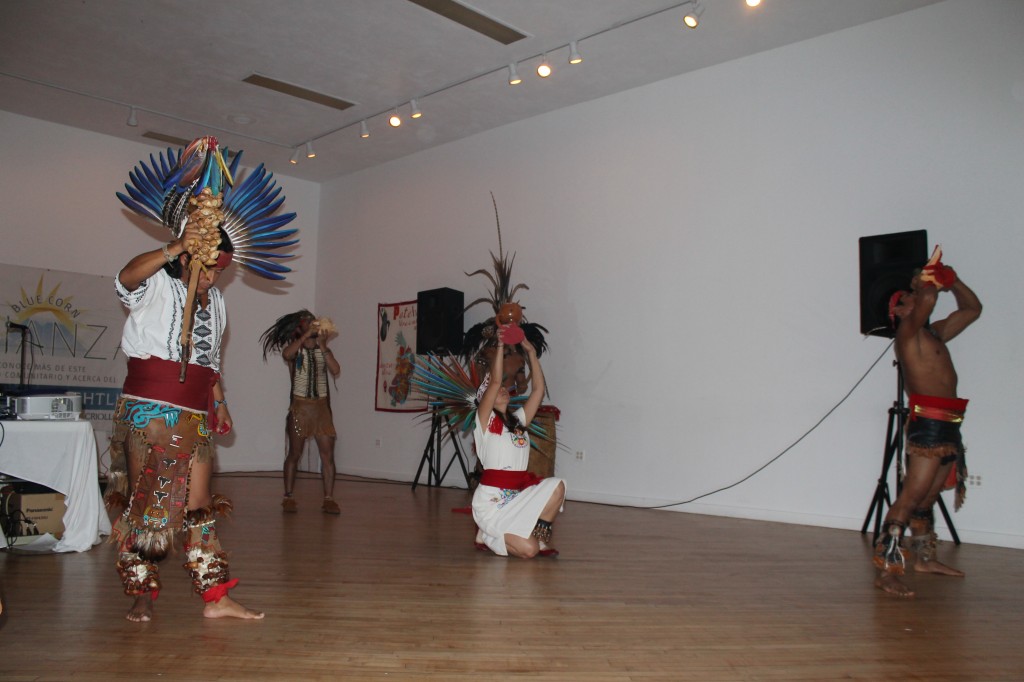 During Hispanic Heritage Month, Raices held a Tertulia in collaboration with the Mexican Cultural Center focused on the history and cultural significance of blue corn in Mexico.
Ruben Chico Del Rosario, a member of Raices' Artist Coalition, led a discussion about the importance of the crop, and the impact of the North American Free Trade Agreement on its cultivation. Ruben also shared information about the Blue Corn Alianza, a small business cooperative that aims to conserve the genetic information of the traditional blue corn grown in San Mateo de Ozolco, Mexico; his home town.
The evening was concluded with samples of foods made from blue corn and a Maiz (corn) dance performance by the Aztec Dance Troupe, Cenzontle Cuicatl.
JULY 2012 TERTULIA- iEl Sabor Colombiano; Celebrálo!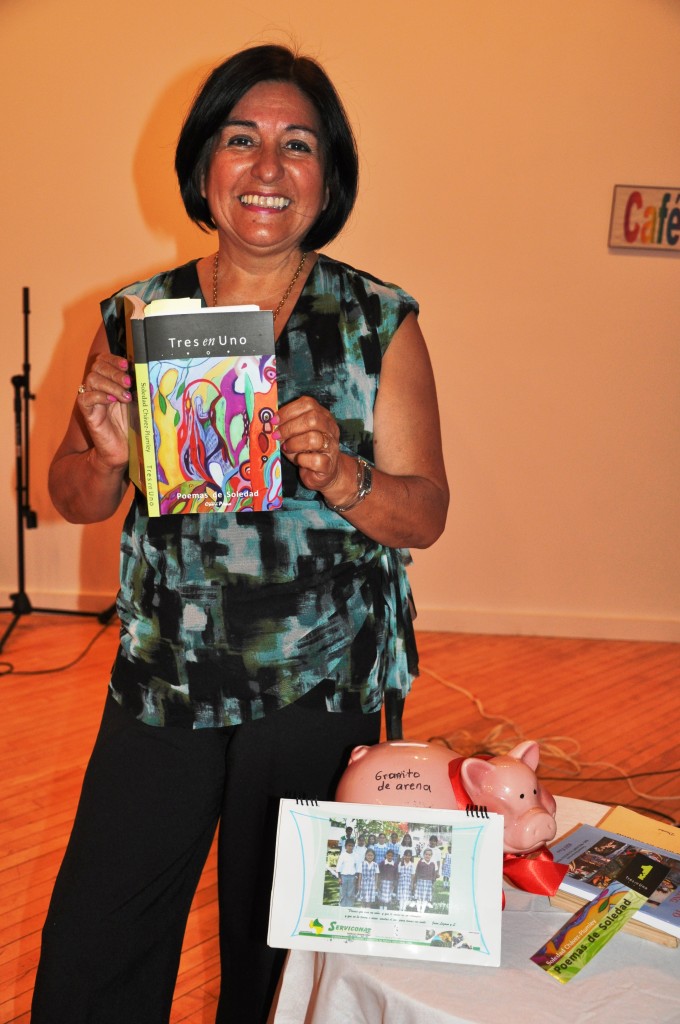 In honor of Colombia's Independence Day, Raices celebrated the rich culture of Colombia for its July Tertulia in collaboration with the organization Accion Colombia.
The evening began with Soledad Chavez-Plumley a teacher and writer of poetry and short stories. Soledad spoke about her personal writings and the works of Colombian, Nobel Prize winner Garcia Marques. Following Soledad's talk, the audience enjoyed live music performances by musicians Jose Rico and Tito "La Voz" Lopez.
MAY 2012 TERTULIA- BoriMex Talks: A Time for Healing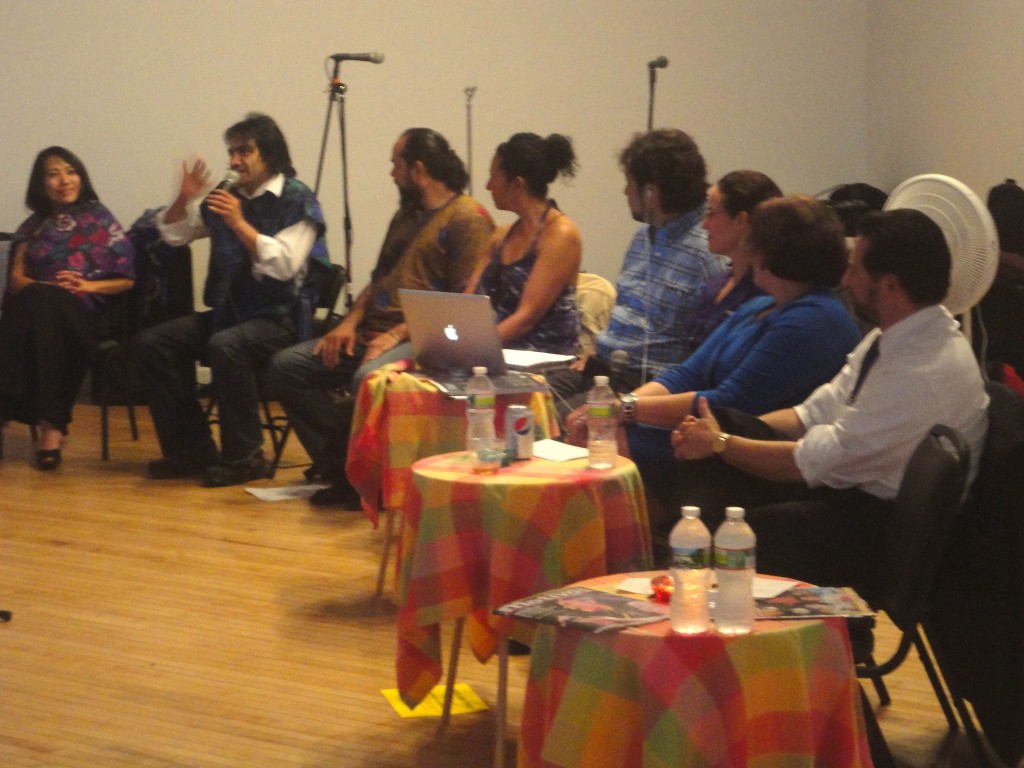 Raices' May Tertulia was a reproduction of the New York based independent cultural production company, Habana/Harlem (R)'s forums on Puerto Rican and Mexican relations, titled BoriMex Talks: A Time for Healing
The Tertulia consisted of a panel discussion with key figures of Philadelphia's Latino community followed by a live music performance by the leading Batz'i Rock band from Chiapas, Mexico, Sak Tzevul, Habana/Harlem (R) Exclusive Artists. The panelists for the program included Nilda Iris Ruiz, President & CEO of Asociación Puertorriqueños en Marcha, Carlos I. Giralt-Cabrales, Consulate of Mexico in Philadelphia , Obed Arango, Creative Director, Host, and Producer of Bandera Media, Damián Guadalupe Martinez, Founder of the band Sak Tzevul and Magdaliz Roura, local musician and founder of Magdaliz & her Trio Crisol.
APRIL 2012 TERTULIA- Me Encanta La Salsa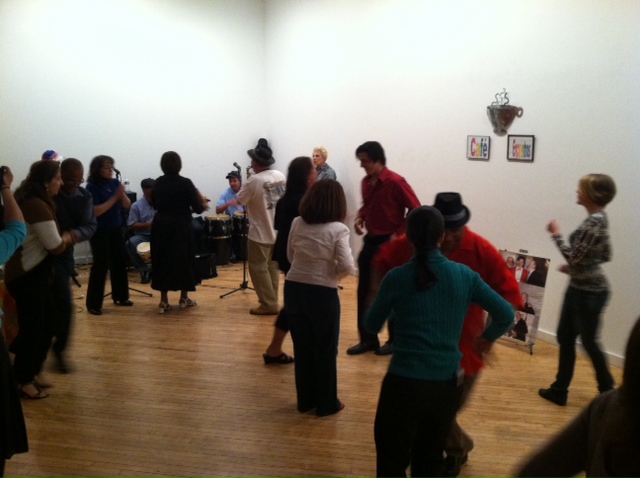 Raices' April Tertulia program focused on the origins and history of the ever-popular Salsa genre. Felix Romero, a Philadelphia resident with great depth of knowledge on the development of Salsa, presented an insightful lecture on Salsa– its origins and evolution, rhythmically and musically, along with the most prominent creators of the genre. After the lecture, Felix gave an all-exclusive Salsa workshop accompanied by a live music performance by Johnny Cruz Latin Jazz Ensemble.
FEBRUARY 2012 TERTULIA- Las Raíces Africanas de Cuba
In honor of Black History Month, Raices' February Tertulia highlighted the African roots in Cuba's culture.
Guest speaker Elizabeth Sayre, a freelance musician, teacher, researcher, writer, and translator/interpreter brought the audience on a tour of Cuba with images and videos from past trips to the country. She also treated the audience to a masterful clinic on percussion, performed in collaboration with percussionists Christian Noguera and Pablo Baptista.
Dorthy Wilkie, Artistic Director of the dance and drum ensemble group Kùlú Mèlé, spoke about the Afro-Cuban dance called Orisha, and then provided a lively and interactive demonstration of the dance with the audience.